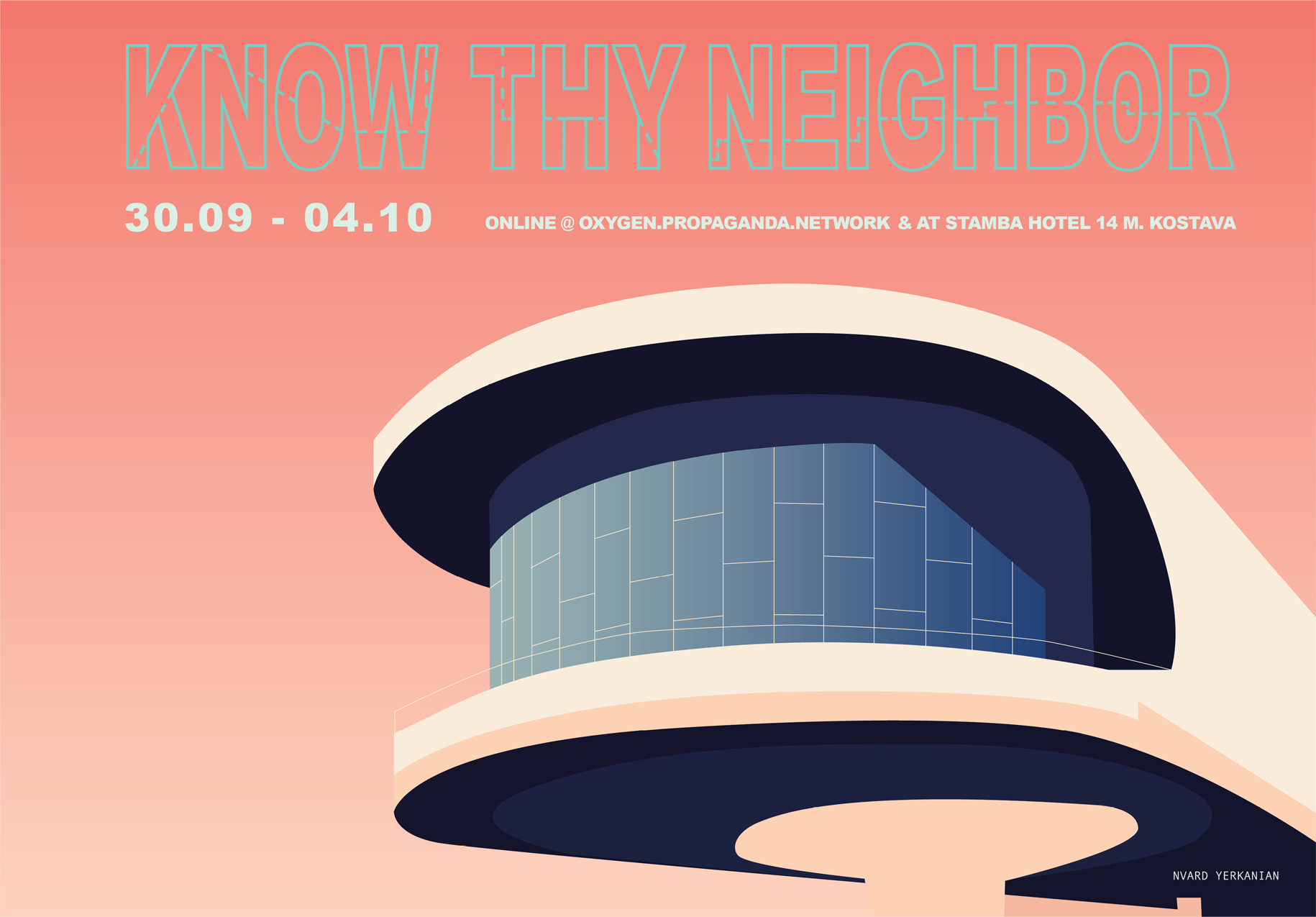 Know Thy Neighbor
Curated by Irena Popiashvili
September 30 – October 4, 2020
Location: Stamba Hotel – Lobby Bar
14 Merab Kostava Street, Tbilisi, Georgia
(Physical visit only by registration)
Propaganda is pleased to present its annual show Oxygen, the third edition and the first one in its current form. The exhibition was initially conceived as a "No Fair", a non-commercial exhibition organized in parallel to Tbilisi Art Fair. Starting from this year, the project transforms its conceptual scale and will continue in a new format: each of the future shows will be curated by a different person at a new location. The 2020's show show opens with the title Know Thy Neighbor under curation of Irena Popiashvili.
Know Thy Neighbor will unite more than 20 participants and will demonstrate a mix of physical and virtual projects as prompted by the travel restrictions. For the first time, the exhibition will also include international participants, mostly artists from neighboring countries.
During the times of pandemic, general lack of information and little contact with the contemporary art scene of the neighboring countries has been deepened by international lock-down. Thirty years ago, the information was distributed and mediated by Russia, while nowadays it reaches the interested audiences through western art magazines only. A driving force of Oxygen 2020 is the lack of knowledge and a lost sense of comradeship that Zdenka Badovinac (curator, art theorist and a Director of Ljubljana Museum of Modern Art) refers to in her Comradeship – Curating, Art and Politics in Post-Socialist Europe. The international show brings together artists from Armenia, Azerbaijan, Estonia, Belarus, Poland, Russia, Serbia and Georgia.
Participants: Alexander Anchabadze, Anastasia Akhvlediani, Sayali Bahar, Uta Bekaia, Olga Chernysheva, Andro Dadiani, Ioanna Tsulaia, Giorgi Grdzelishvili, Anna Jibladze, Nikita Kadan, Toma Tamara Kanashvili, Rita Khachaturian, Uladzimir Hramovich, Taus Makhacheva, Vladimir Miladinović, Nutsa Mikaberidze, Andrew North, lukasz Radziszewski, Guram Shavdia, Nvard Yerkanian, Giorgi Vardiashvili, W2kshop
Due to the restrictions and regulations imposed on indoor cultural events due to the pandemic, only five people will be able to attend the exhibition at a time based on prior registration.
The schedule of the show: September 30 – 15:00 – 22:00; October 1 – 4 – 15:00 – 22:00